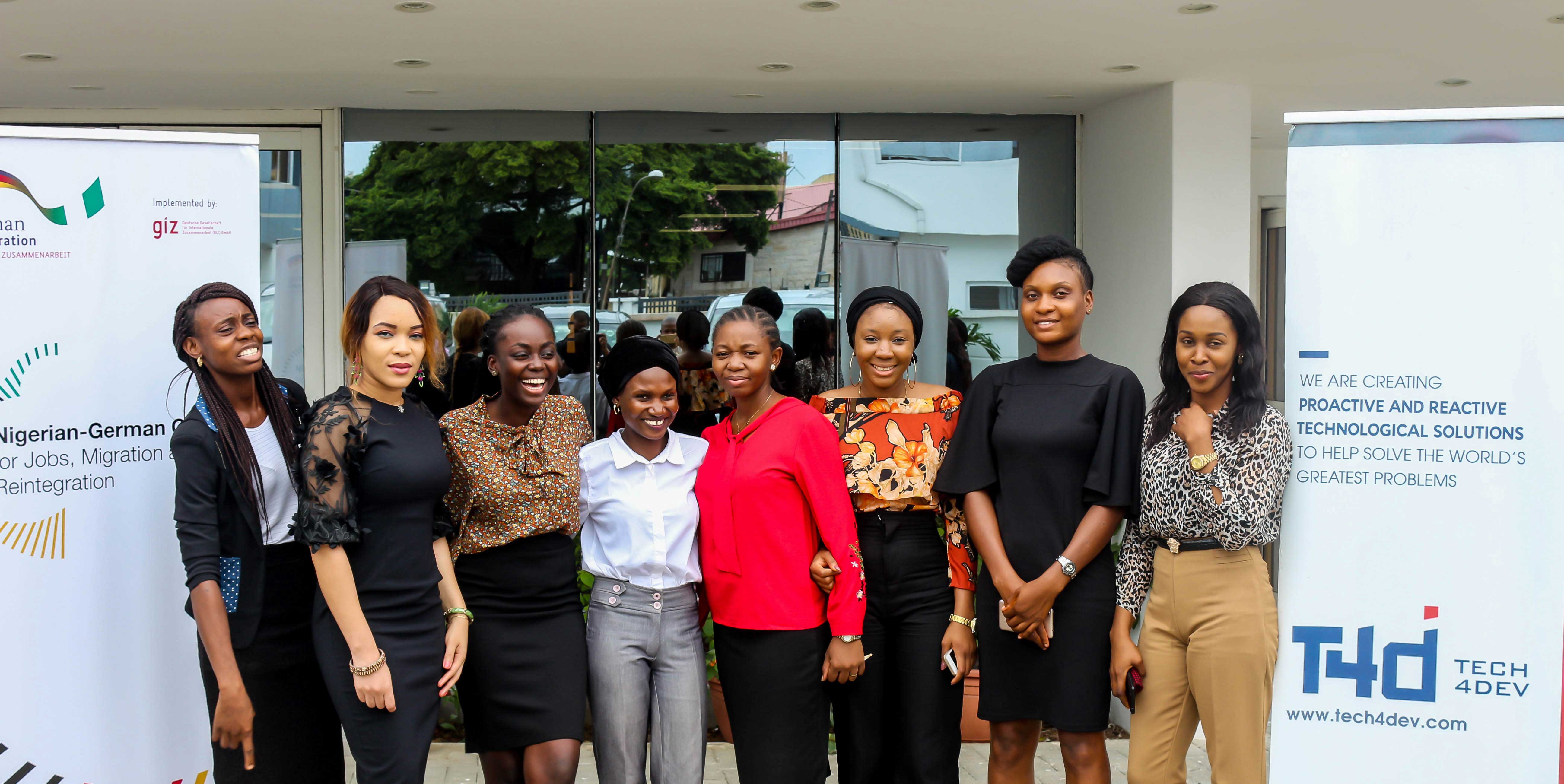 Empowering African girls and women with the ability to access decent job opportunities within the future workplace and the right skills and support structure to enable them start and scale technology-enabled businesses and deep tech startups
Watch our stories
About us
The Women Techsters initiative, an initiative of Tech4Dev is aimed at bridging the digital and technology knowledge divide between men and women as well as ensuring equal access to opportunities for all. We are empowering girls and women across Africa with varying degrees of digital, deep tech and soft skills required within the technology ecosystem. Our objective is to grow and support an army of tech empowered girls and women across Africa who will have equal access to decent job opportunities as well as build and scale their ideas into tech-enabled businesses and deep tech startups, which will aid Africa's economic growth.
Objectives
To provide the prerequisite knowledge and insight needed to enable girls and women interested in careers in technology access the right learning opportunities
To enable girls and women gain access to decent jobs within the technology ecosystem
To empower girls and women with the right skills needed to create, grow and scale their own technology-enabled businesses and deep tech startups, while providing them with a strong entrepreneurship support structure within their respective communities across Africa
Learning Tracks
Product Design

Product design is a process of creating user-friendly solutions using various design tools. In this track, beneficiaries will learn about the basics of product designs, the various design tools we can use, and all it entails.

Product Management

Product Management is the glue that holds product design, tech, and business together. Beneficiaries would learn how to navigate through product management as wide as it seems.

Data Science and Artificial Intelligence Engineering

In a world where machines are becoming increasingly capable, and Data has become gold, Data Science and Artificial Intelligence engineering has become a skill far too valuable. This track is equipped with enough information to enable interested women to start a successful career in this field.

Software Development

Behind the framework of any system are a set of instructions and data that tells the computer how to work. Software development involves the build-out of these instructions and data.

Cybersecurity

Each year, the statistics for cybercrimes continue to rise. This track involves the various measures to be taken to protect critical data and information from being breached.

Blockchain

Originally devised for the digital currency Bitcoin, blockchain has evolved. The tech community is now finding other potential uses for this technology, such as peer-to- peer payments, crowdfunding, file storage, identity management, digital voting, etc. Beneficiaries would not only learn how to find their feet in the but also how to start a career in the Blockchain industry.

Mobile Development

Mobile development is used in creating apps for both android and ios operating systems. Beneficiaries would learn, and understand the use of tools needed to solve problems through apps.

Mixed realities and 3D

With the growing interest in the Metaverse and the increasing demand for 3d avatar and 3d environments in the digital space, mixed realities and 3D have become very high demand skills. Beneficiaries would learn all there is to know about Mixed realities and 3D, and how they can navigate a career in this field.
Expected outcomes
70%

of trained girls and women get access to decent technology job opportunities

25%

of beneficiaries go on to study technology related courses

5%

of trained girls and women build and run tech enabled or deep tech startups